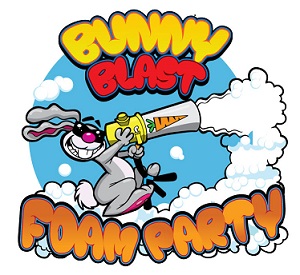 Looking for a BUBBLE
party instead?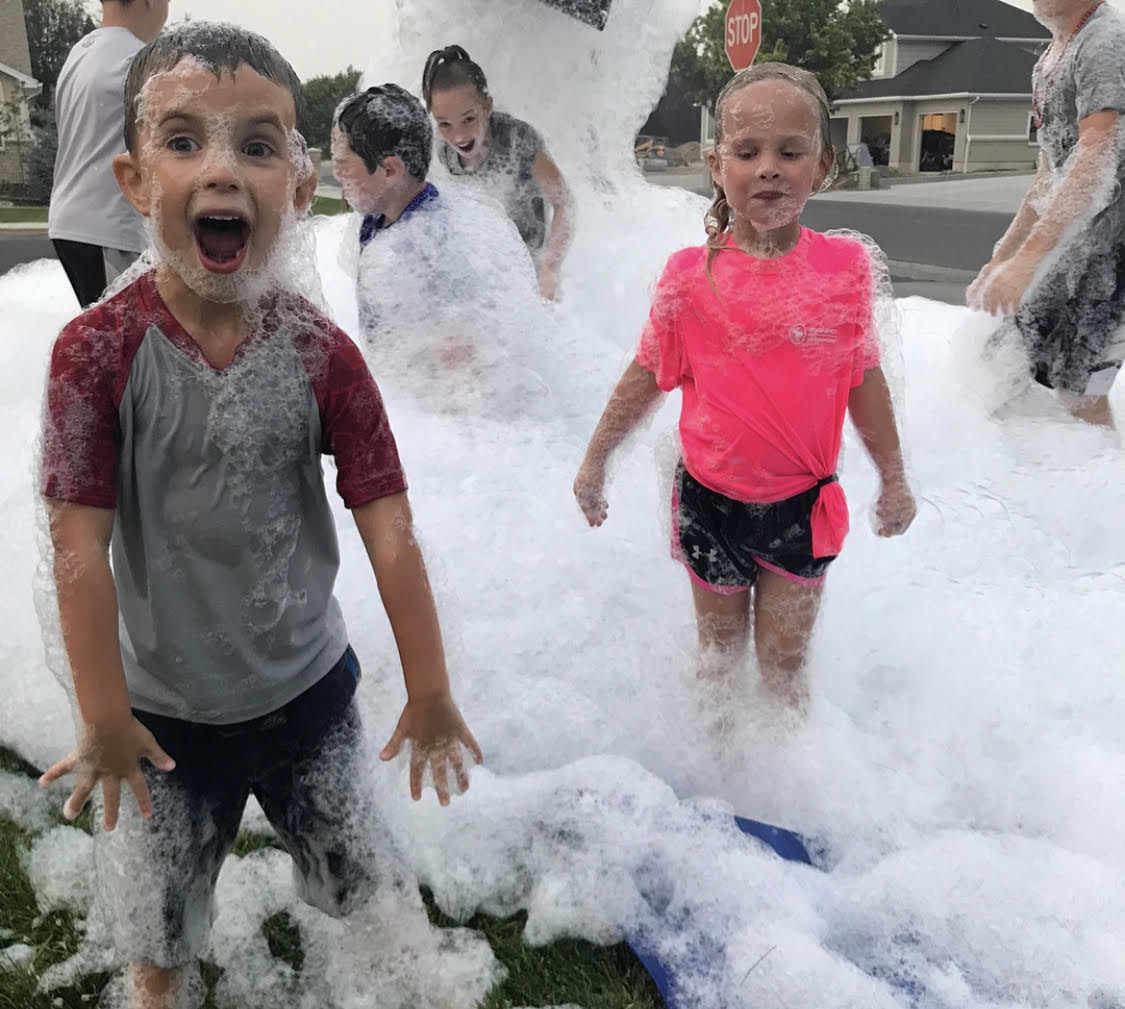 Best Choice for Foam Party Fun in Raleigh North Carolina
Also serving Durham, Chapel Hill and surrounding areas.
You Host The Party, We Make It Epic!
We transform your open area into a foam wonderland about 30 feet by 30 feet and up to 5 feet deep.
We pump up the volume on age appropriate music and the fun begins.
Your guests enjoy group games and fun in the foam they will not forget. Plus, there is ZERO cleanup for you.
Where Do We Bring The Bunny Blast Foam Fun?
Birthday parties

Preschools  /  Schools

Summer Camps

Scouts  /  Sports team parties
Family reunions
Cook-outs / BBQ
Bachelor Bachelorette parties
Church youth groups
Block parties
Fairs / Festivals / Running events
Music and Dance events
College events
Company picnics
Restaurants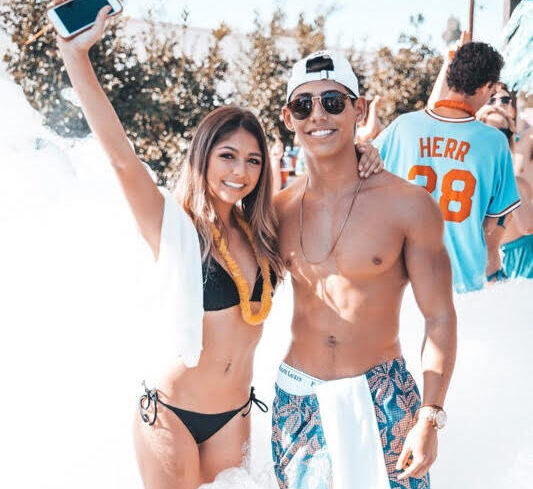 Safe for kids, pets, and grass.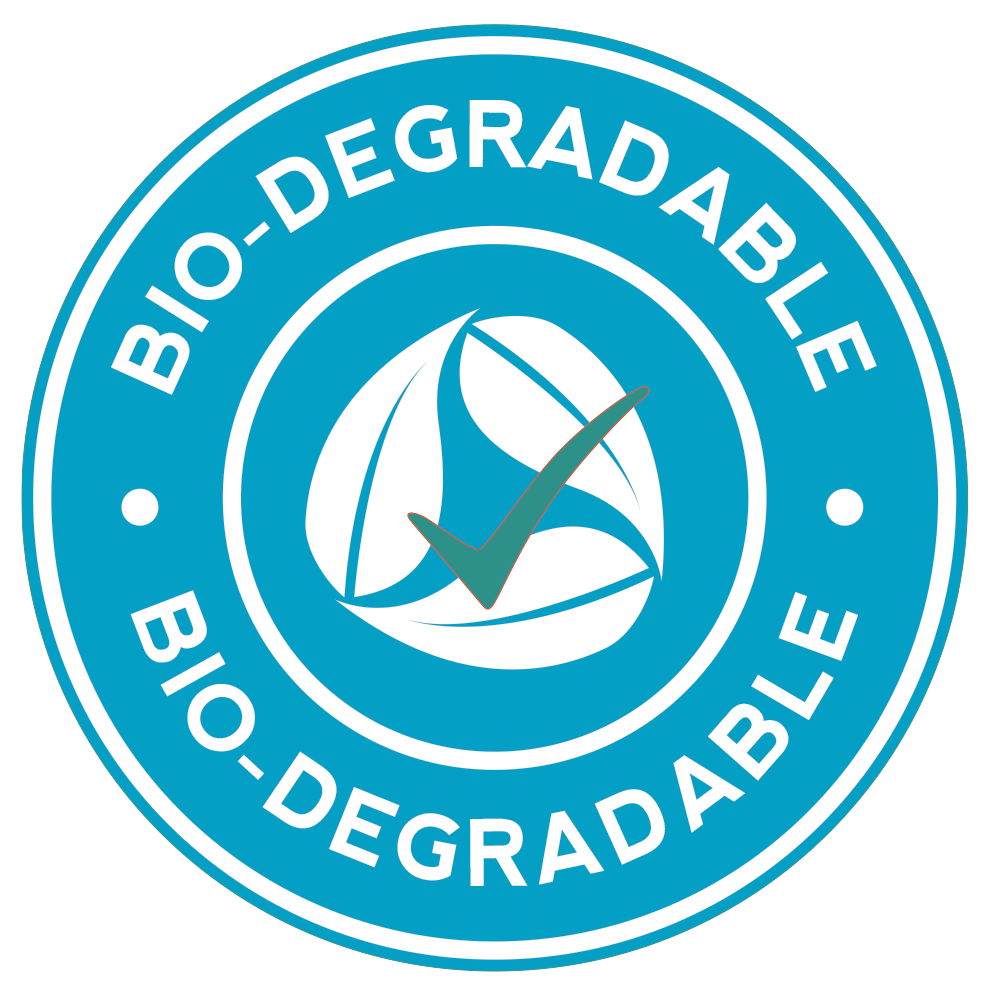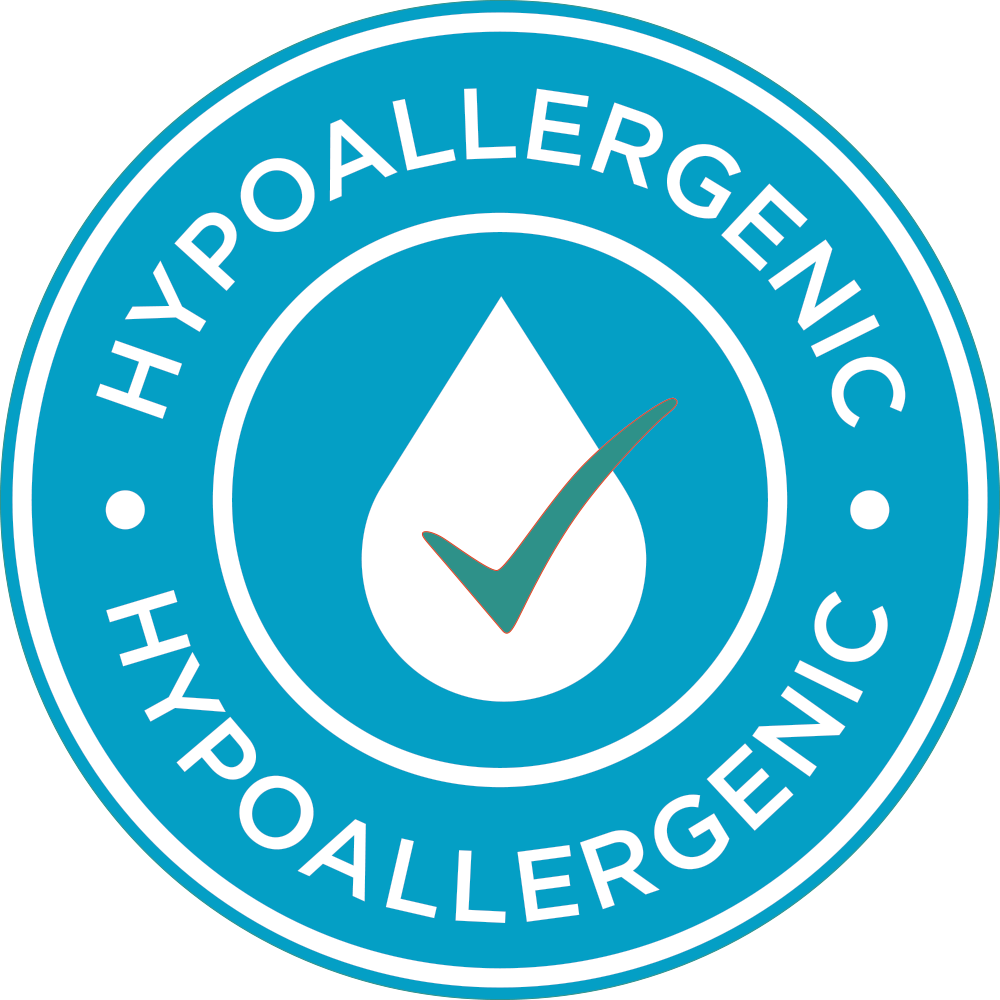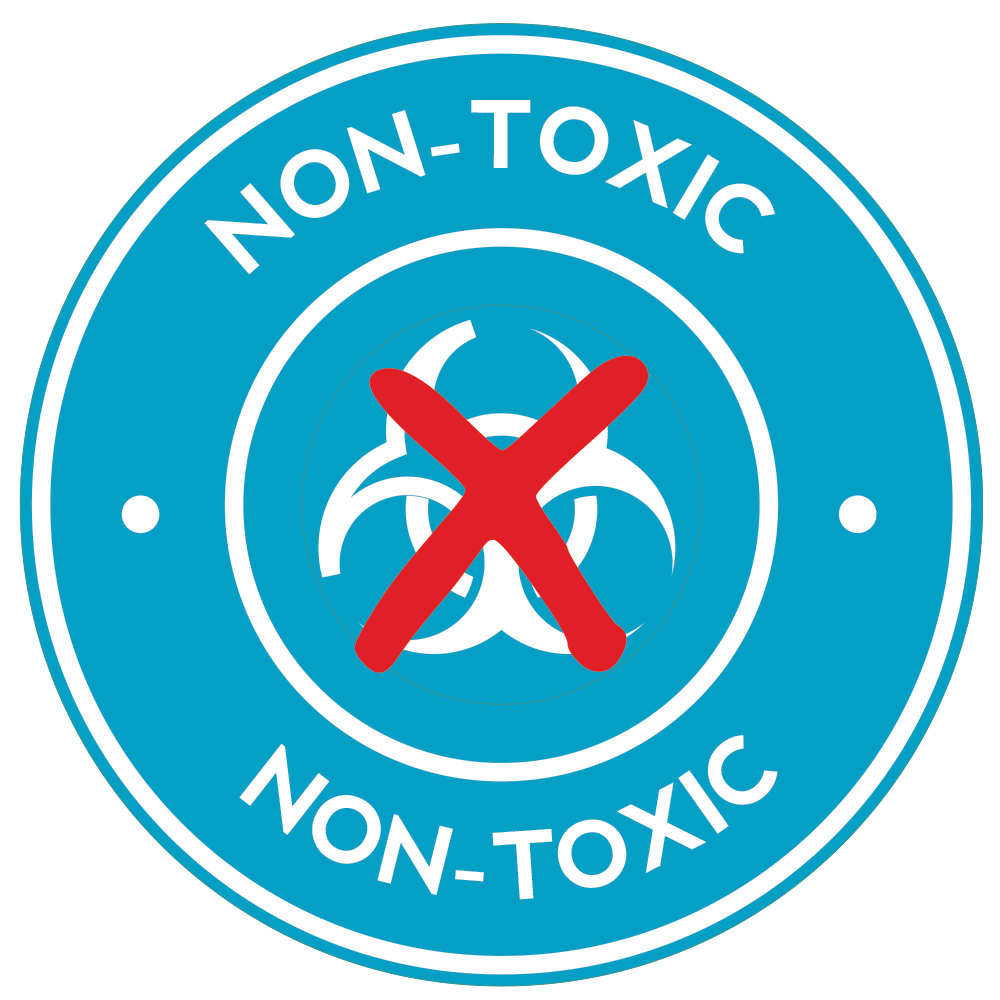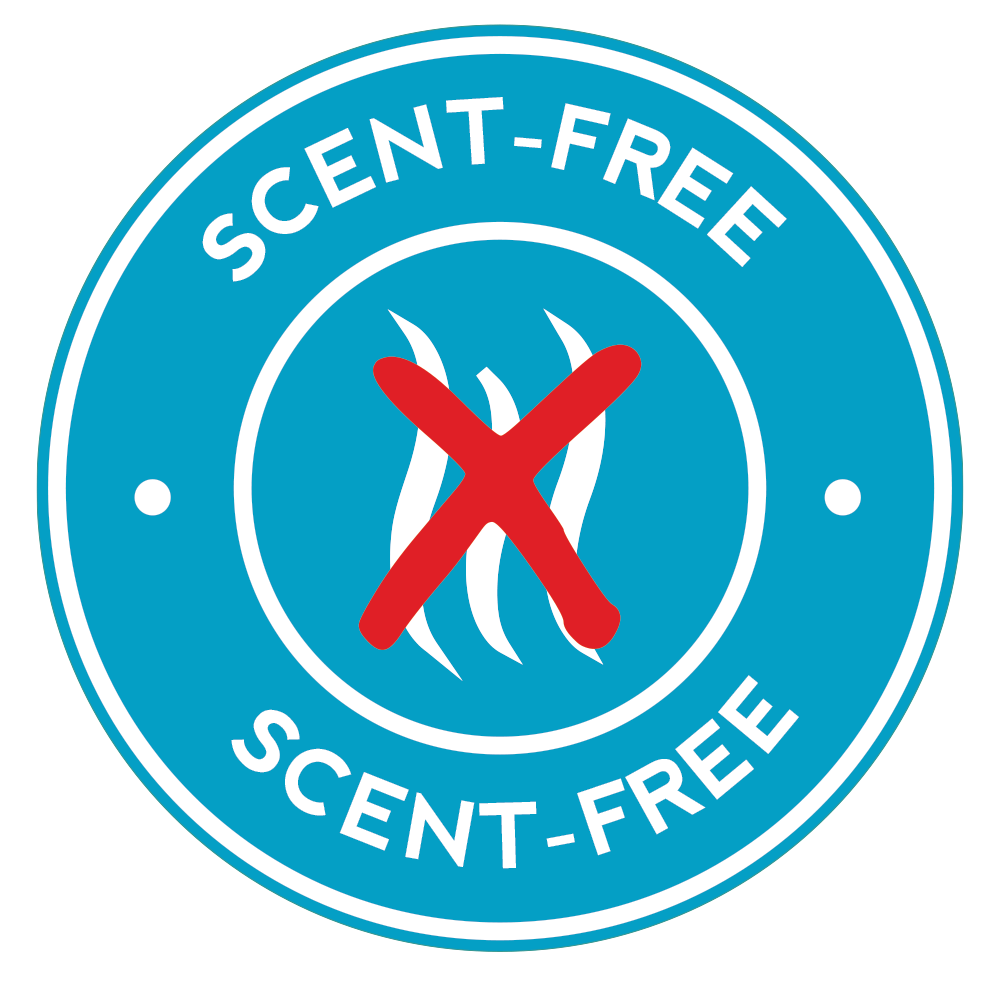 Event Dates Fill Up Quickly
Check Availability Today
Here's What We Need For Your Bunny Blast Foam Party
Access to a water spigot within 100 feet of the setup area.
A regular electrical outlet within 100 feet of the setup area.
An open area outdoors at least 30 ft x 30 ft…flat on grass or pavement.
Adult supervision and  crowd of excited kids ready to have a blast!
Your Bunny Blast Foam Party Includes

Our trained foam specialist sets up and runs the foam cannon and works to ensure a fun time for all.

60 Minutes or More of Foam Frolick
This experience will offer you the chance to get some great pictures and video of your group having an awesome time together.

We set-up a great sound system and share music and games relevant to your group. As a result, we are one of the most highly rated family entertainment companies in the area.
Bunny Blast Foam Party Pricing
$325
Standard Blast
Foam Party
A trained Foam Specialist
Professional foam cannon
Age appropriate music
1 hour of foam & fun
Foam games and beach balls during the party
$425
Super Blast
Colored or
Glow In The Dark
Light up the night with our ultra violet non-toxic additive to make your night time foam party glow in the dark
Or add color to your daytime foam as an added attraction
Colored foam is great for gender reveal parties or holiday events
$550
Mega Blast
Foam Party
PLUS
45-Minute Magic Show
45 minutes of magic and fun!
Hilarious comedy magic show for kids and parents
Tons of audience participation
over 80  Five-Star reviews in Google
Multiple award winning entertainer
1 hour of foam & fun
Notes:
1)  Extra time is $145 each additional 30 minutes
2) Pricing above reflects the Raleigh-Durham Metro Area. Locations over 1 hour drive away from downtown Raleigh will incur an additional travel fee based on distance.
5% Discount to active Military, First Responders, and Educators.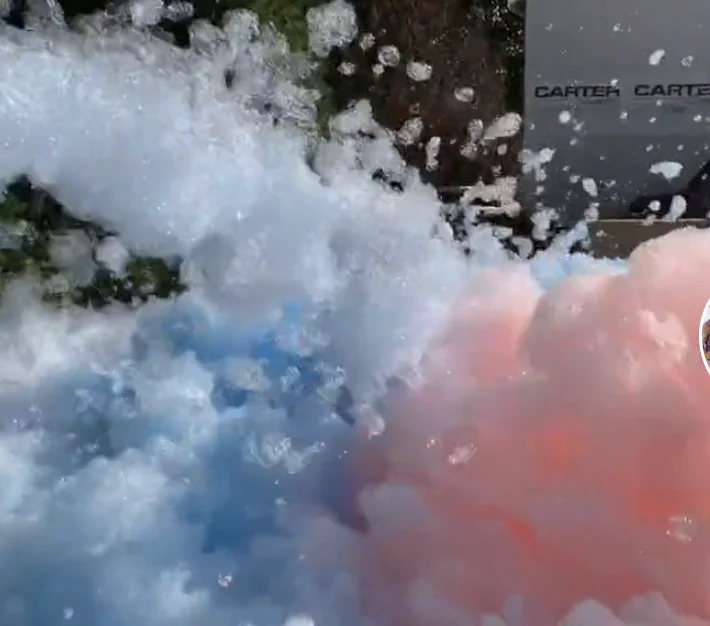 Add a splash of color to your event.
Great for…
gender reveal parties
slumber parties
camping events
Colored add-on just $100 more per hour.
* may stain some fabrics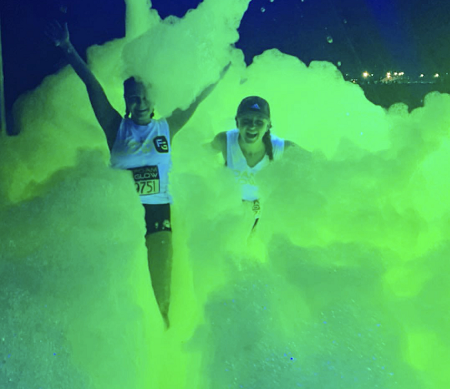 Our Standard foam party + blacklights + our Ultra Violet foam solution = 

GLOW FOAM !

The foam looks like spillage from a nuclear waste site but is absolutely safe. Your party goers will love it!

Our Glow Foam is only offered after dark, and is perfect for party people from middle school age and up.

Wear bright or neon colors for added effect.

Glow Foam add-on just $100 more per hour. 
Book Your Foam Party Today!
Contact us with one of the options below.
★★★★★
"Very funny! The kids and the adults all enjoyed the program very much!"
★★★★★
"He was so hilarious. My daughter and her friends were laughing so much even after Michael left."

Safe and Fun
for Children
Our eco friendly foam is safe and allergy-free. We monitor the area for safety.

We pride ourselves in providing top notch customer service.

Our foam dissolves within about an hour. We pack-up and haul away all of our gear. You get to relax and enjoy.
Frequently Asked Questions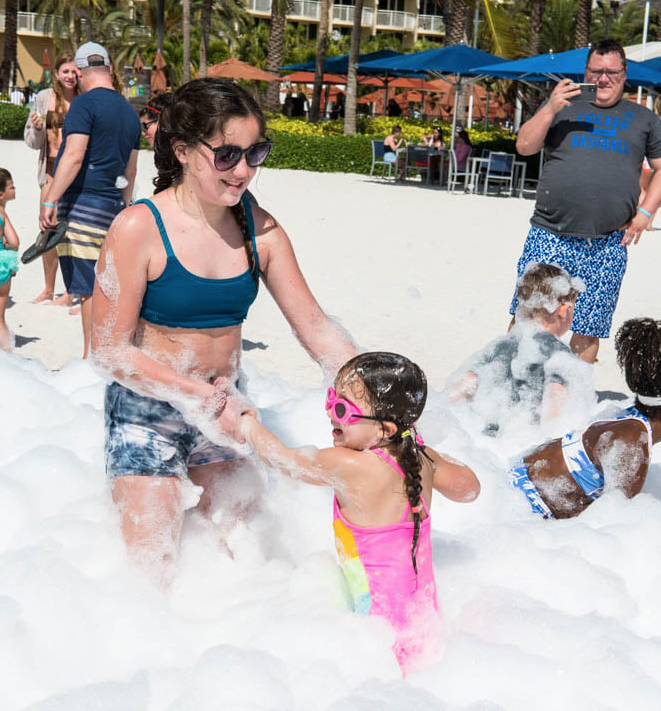 Are foam parties slippery?
Foam is slippery since it is mostly made of water, so it's possible to slip if you're on tall grass or a smooth, slick surface like glazed tile. To avoid slipping, we suggest everyone avoid running in foamy areas.
Are foam parties safe for children?
The foam that we use is hypoallergenic, and non-toxic. After extensive texting we have found very few people who every have any issues with the foam on their skin or in their eyes. If directly exposed to the eyes it can be a mild irritant, but it should be more mild than the average child shampoo or body wash. But it is more harsh than baby shampoo. Some kids may want to wear g
oggles, and the are fun but not necessary. A few towels nearby make it easy for kids to wipe their eyes if needed.
As for the environment, we don't spray foam around a pool because that can be extremely dangerous. We also try to limit running so that kids don't crash into each other while buried in foam.
The foam solution contains vegetable glycerin and also sodium laurel sulfate, which is a common ingredient in baby shampoo.
It is also safe for grass and does not stain the ground or clothing.
Best age and max group size for the foam zone?
Foam parties are great for all ages.
The number of people in the foam at one time will vary according to a number of factors including average body mass, water conditions at your facility, weather, etc.
We are generally good with about 30 adults/teens or 40 kids in the foam at once. After that we may need to add a second and third foam cannon.
At larger events like schools we can stagger the classes into the foam for 20 to 30 minute intervals.
What should kids wear at a foam party?
Foam frolickers should consider wearing bathing suits or shorts and a t-shirt. Younger kids may want to wear eye goggles. Shoes are optional but guests enjoying the party on hard surfaces like concrete or blacktop may be more comfortable with sandals, flip-flops, or water shoes.
What kind of surface and how much space do you need?
An open (uncluttered) area about 30 feet by 30 feet is great. It can be on grass or pavement. Hard surfaces are great but can be hot on the feet at certain times of the year…. so think flip flops or water shoes.
Is this the same as a Bubble Party?
No.  Bubble parties create larger bubbles and the kids can create their own bubbles. For more details see our Bubble Party page.
Yes, I'm ready to book a Bunny Blast foam party !
For fastest response please carefully enter your email below.
Within 24 hours (usually a lot less), we'll send you a message to confirm your date and time.
Then we'll ask for the address and other details about the party.
You'll also get a complementary subscription to our monthly Family Activities Newsletter.
You can unsubscribe at any time.
Prefer to check availability by phone or text? 
Click here for the info we'll need when you call / text us 919-391-8113.
Although Bunny Blast Foam Parties is based in the Raleigh – Durham area, we also host foam parties in other counties and cities throughout North Carolina. You can also bring us to your event in Greensboro, Winston-Salem, Chapel Hill, Rocky Mount, Fayetteville, Cary, Apex, Wake Forest, Burlington, Hillsborough, Fort Bragg, Clayton, Zebulon, Smithfield, Goldsboro, Henderson, Creedmore, Wilson, and beyond.  This includes schools, libraries, churches, scouts, and more. Call or use the form above for information on booking us to help pump up the party at your event.
Bubbles illustrations compliments of illustoon.com, Carott icon compliments of Pngkit.com
Visit Our Other Entertainment Companies